Benefits of Selling Product Online
There are many platforms you can sell online products. Using these platforms you can derive all the Benefits of Selling Online. Some of the major platforms are Amazon, Flipkart, Snapdeal, Jabong, and Shopclues. Selling online comes with many benefits which are discussed later in this article.
Amazon is an American company which was founded by Jeff Bezos on July 5, 1994. It started as an online bookstore and now they sell a huge range of products. Amazon has become the largest online store in the world. According to the data of 2016, Amazon has revenue of US $135.98 billion.
Flipkart is an Indian company. It was founded by Sachin Bansal and Binny Bansal in October 2007. It has its headquarters is in Bengaluru, India. The first product which was sold by Flipkart was to a customer from Hyderabad. It was a book Leaving Microsoft To Change The World. Now, they have more than 33,000 people working as their employees. According to the data of 2016, Flipkart has the US $2.4 billion of revenue.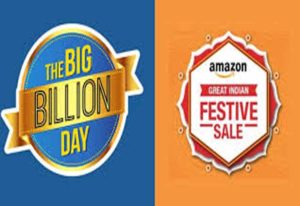 The Benefits of Selling Online are:-
1.   Less Cost
Lower running and set up the cost. The cost of running an online business is lower than an offline business as you don't need to set a showroom for it etc.
2.   Wide Reach
Large potential customers reach. As these platforms like Amazon, Flipkart, etc have a large number of users, your reach to your potential customer will surely increase. This gives you a better chance of getting them as your customers and your sale will increase.
3.   Do Business from Anywhere
You can operate the business from anywhere. As you do not have to be physically present to operate your business. Business can be done by you being at home, restaurant or anywhere else. You just need an internet connection and a laptop.
4.   No Time Restriction
There is no time restriction like business will be conducted between 10 a.m. to 6 p.m. You can conduct your business 24×7.
5.   Quicker Payments
You will receive payment more quickly than from your offline business. As customers can make an agreement to pay you on a deferred basis but in online selling the will have to pay you on a more immediate basis.
6.   Global Market
The reach of these websites is very wide. They have global reach also. Through their global reach, you can reach your customers or potential customers globally.
So, now you know the Benefits of Selling Products Online. If you have any queries regarding this article, you can comment below and Acube Digital will surely help you.